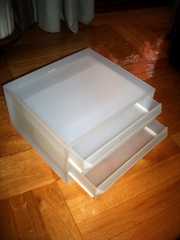 We hadn't posted about meipi.org/spermola yet, a meipi with some special characteristics that we have developed specially for Basurama. This "forum for discussion and reflection on trash, waste and reuse in all its formats and possible meanings" (and also good people;) wanted to have a tool to enable the sharing of objects.
For us, it has been important project, as it is the first ad hoc solution that we develop based on our free tool. For instance, we have changed the layout and also introduced some new fields, the possibility of archiving entries, and other features.
We now have a good chance to talk about it, as today I have been able to experience personally that it works. I had some plastic drawers that didn't use anymore, and from today they will be useful for a nice neighbour of mine, who picked them up.
So long, drawers! Thanks, Spermola! 🙂