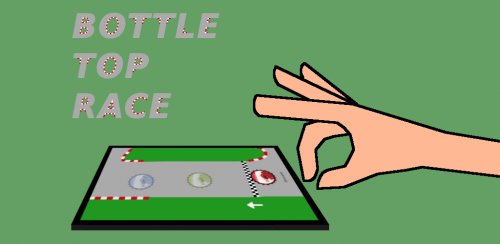 Bottle Top Race for Android is our new game in the Android Market. It is a racing game that is played by hitting the phone like if it was the bottle top. The harder you hit it, the longer the shot.
Check out the video to see how to play this game. First click on the screen to point where you want to move the bottle top, and then hit the phone at the bottom, like hitting a bottle top.
It is a multiplayer game for an unlimited number of players. Select the number of players in the game menu and race against your friends in one phone.
In this first version there are two different circuits: The basic circuit where you can train and learn how to play and the longer circuit that is more difficult.
You can configure the number of laps for the race, so you can decide how long the race will be.
You can download it for free in the Android Market. There are no annoying ads in the game. There's a donation button inside the game with in-app billing if you feel like donating something for us to create more games and applications 😉
The game can be moved to the SD card of your Android phone, so you don't have to worry about the space it will take.
If you like it then rate it and add your comments. Your feedback is welcome to improve our applications and games!
Note: We are not responsible if you hit your phone too hard and break it, or you hurt yourself :p