Once again, we've had the opportunity to work with our cousin @numeroteca, in another collaboration with Basurama in the context of their Trans Trash project ("Understanding waste streams") and exhibition. As he says, it's great that our work has been displayed no less than at MIT!
In particular, we've helped out in the Trash-o-meter tool ("How much waste do you buy, take away and trash?"), a simple calculator used to measure the quantity of waste generated in MIT events, meetings and lectures. The aim of the project is "to pay attention to the amount of waste produced and address the irony of the so called 'zero waste' events".
We have used the javascript plotting library flot in order to display graphs showcasing the amount of waste per person generated at a given event, based on the data provided by the user. (Trans Trash disclaimer: Waste formulas are work-in-progress, based on the research they are conducting.) These figures are also compared with the average, as shown in the following example: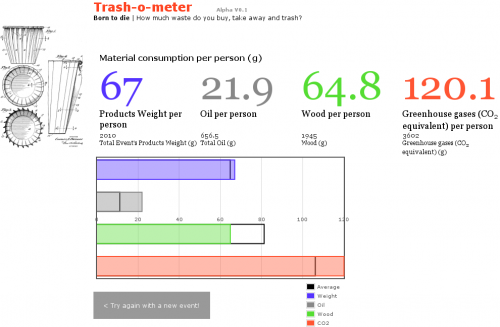 We have to say we fully share the concern and aims of the project; we're the kind of people who clean our coffee mug at work, instead of using a plastic cup every day. Indeed, while working on this, we couldn't help but reminding these thoughts on plastic spoons and our society (via microsiervos.com).
Trans Trash activities keep going on, including a moving meipi map at the exhibition, and we wish the team best of luck with them.