We've been saying that Meipi (the collaborative local and thematic maps project we are involved in) is "at its alpha stage" for a while now. I bet most people have already guessed that there would be a beta stage after this one. And that is in fact our idea.

We're not doing it as fast as we would have liked, as we have to coordinate this with our jobs and the rest of projects we are involved in. (By "we" I mean Jorge and myself, plus the rest of meipi guys.)
So what are we changing? Mainly, we are trying to get a better look&feel and usability, as we haven't paid so much attention to it yet. We are working with other people at this stage, as we (I now mean Jorge and myself;-) are focused on the back-end of it, and its proper functionality.
Of course we will also deal with some pending functionality issues, so it's time for you to tell us (again) what are we really missing or doing wrong!
Now, the good thing is that even though the presentation of the common pages is rather terrible (see image below), and that creating a meipi is not easy at all, the number of users have been raising (around 400 by now), and so the number of created meipis (around 60).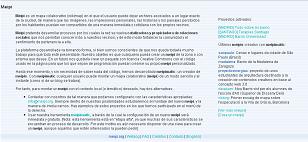 So let's hope that someday we will release the brand new interface… and we'll see how it goes! We'll keep you updated with the news in this process.